HCP Helps Port Tampa Bay and Nasatka Security Celebrate Major Anniversary Milestones
TAMPA, Fla. (October 16, 2020) –  The year 2020 has brought many new challenges for companies to overcome – from COVID-19 to the active hurricane season – but it has also marked many significant milestones for some. For example, HCP is working with Port Tampa Bay to celebrate 75 years since the port authority was enacted by the Florida legislature, and Nasatka Security, a perimeter security company, to celebrate 45 years.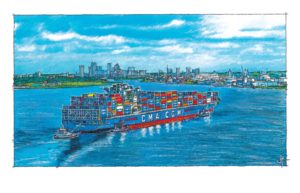 In the last 75 years, Port Tampa Bay has become the largest port in Florida by land and tonnag
e
,
 has put Tampa Bay on the commercial shipping map
,
and
 has
 become an economic engine for our region. 
HCP has worked with the
port t
o help recognize this significant achievement, 
from celebrator
y
 videos from community leaders
, to a sidewalk mural on the Tampa Riverwalk, to 
coordinating an impressive
 illustration by local ar
t
ist John Pehling
. 
There's no shortage of opportunities to honor an organization that creates an economic impact of over $17 billion, provides 85,000 direct and indirect jobs, and handles more than 34 million tons of cargo annually.
Additionally, Nasatka Security, a provider of perimeter security for some of the most influential facilities, such as the FBI's headquarters, is celebrating its 45th anniversary. Nasatka's solutions are designed primarily to control, detect, and where necessary, stop unauthorized vehicle and pedestrian threats. 
To celebrate the company's 45th year of providing security and protection, HCP developed a campaign to share the impact of Nasatka through the years. The campaign includes a special 45th anniversary logo, commemorative challenge coins, and a national press release featuring the history of the company and the founder, Korean Army War Veteran Ralph Nasatka. Additionally, Nasatka is being recognized with a commendation by the Hillsborough County Board of County Commissioners acknowledging its contributions to the safety and security of our community.
"We've worked with Nasatka for over 15 years, and we're always impressed by the company and its ability to develop such impactful products that make such a difference to our community," said Eric Polins, a Managing Partner with HCP.