HCP Associates works with the Florida Institute of Government to Release Results of the 31st Citizen Satisfaction Survey for Sarasota County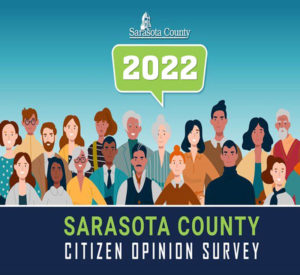 SARASOTA, Fla. (November 10, 2022)— HCP Associates recently completed the 31st Annual Citizen Satisfaction Survey for Sarasota County alongside USF's Florida Institute of Government.
These results were presented alongside USF Associate Professor of Communication Dr. Joshua Scacco and two USF students. This working relationship with HCP allows students to gain useful experience with applied research.
HCP began their partnership on this study in 2018 and has since helped enhance the questionnaire and sample size to better reflect the growth that has occurred in Sarasota County since the first study was conducted. This research delved into several topics including citizen satisfaction and expectations, personal stressors, county budget, social services, and economic development.
"The annual study continues to provide invaluable information for the county on how residents feel about a myriad of topics and issues," said Robert Allen, Vice President at HCP Associates. "The consistency in the base questions provides a tremendous look at how sentiment and opinions have changed over time, some more than 3 decades."
These insights provided by HCP's research help guide the administration's strategic decision-making process and future public outreach. It will also recommend where residents believe improvement should occur and gauge how satisfied they are living in Sarasota County.
"These results speak to the county's success over the years and give county administration insight into the greatest challenges facing residents and the county in the years to come," said Sean Coniglio, Managing Partner at HCP Associates.
About the Florida Institute of Government at the University of South Florida:
The Florida Institute of Government at USF serves governments and non-profit entities within a 9-county region to increase the effectiveness and quality of government in Florida through applied research, training, technical assistance programs, and public service.  For more information about the Florida Institute of Government at USF visit http://fiog.usf.edu.