HCP Associates Selected Winner in 38th Annual Telly Awards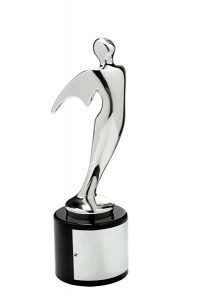 TAMPA, Fla. (March 13, 2017) – The Telly Awards has named HCP Associates as a Silver winner in the 38th Annual Telly Awards for their documentary short titled "The Courthouse Dog." With over 13,000 entries from all 50 states and numerous countries, this is truly an honor.
HCP's production company, Gulf+Atlantic Films produced the documentary that had its red carpet premiere last week at Tampa's Gasparilla International Film Festival. The film centers on Florida's first facility dog. "The Courthouse Dog" tells the story of how Guardian ad Litem (GAL) volunteers, former Voices for Children of Tampa Bay Director Betsy Smith and GAL volunteer/handler Brenda Kocher were able to bring the Courthouse Dog Program and the film's star, Tibet, to the Hillsborough County 13th Judicial Circuit. Tibet provides emotional support for the abused, neglected and abandoned children during stressful and difficult proceedings.
"I never expected this a year ago," said Josh Santos, the 26-year-old director of the film. "It feels great to have been a part of this project and we are so happy for all the positive reactions we've received and hope we can continue to spread the word and make a difference for such a wonderful program."
Executive Director for Voice for Children, Ronna Kennedy, said "We are thrilled not only because the film tells a beautiful story of what we do, but enlightens more people on the importance of using facility dogs in court."
The Telly Awards was founded in 1979 and is the premier award honoring outstanding local, regional, and cable TV commercials and programs, the finest video and film productions, and online commercials, video and films.  Winners represent the best work of the most respected advertising agencies, production companies, television stations, cable operators, and corporate video departments in the world.
A prestigious judging panel of over 500 accomplished industry professionals, each a past winner of a Silver Telly and a member of The Silver Telly Council, judged the competition, upholding the historical standard of excellence that Telly represents.  The Silver Council evaluated entries to recognize distinction in creative work – entries do not compete against each other – rather entries are judged against a high standard of merit.  Less than 10 percent of entries are chosen as Winners of the Silver Telly, our highest honor.  Approximately 25 percent of entries are chosen as Winners of the Bronze Telly.
"The Telly Awards has a mission to honor the very best in film and video," said Linda Day, Executive Director of the Telly Awards.  "HCP's accomplishment illustrates their creativity, skill, and dedication to their craft and serves as a testament to great film and video production."
Eric Polins, Senior Brand Strategist/Partner at HCP Associates said, "We are extremely pleased and honored to receive this award. We're lucky to have clients that trust us enough to live outside the box when it comes to creative ways of marketing their services."
To find out more about the Telly Awards, visit www.tellyawards.com.
To learn more about HCP Associates, visit www.hcpassociates.com.
To learn more about Gulf+Atlantic Films, visit www.gafilms.com.