HCP Associates' Chairman Delivers Biennial Survey Report at Annual Tampa Downtown Partnership Development Forum
TAMPA, Fla. (March 29, 2017)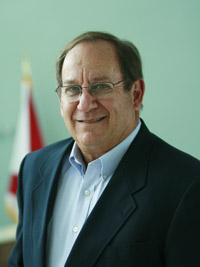 HCP Chairman R. Patrick Hill presented to a packed room in the Tampa Convention Center last Friday morning. Data presented by Hill reflected feedback from Downtown Tampa's major stakeholders—its residents, workers and students. A baseline was conducted in 2008, and every two years since, HCP has surveyed Downtown's stakeholders for aspects of Downtown improvement in the way of events, activities, businesses, transportation, personal services, etc.
"Facts and figures always win the day, and Tampa is becoming a major magnet for movers," said Hill. According to the U.S. Census Bureau, Tampa enjoyed the fourth highest population growth in the nation last year, adding more than 58,000 residents. Results from the biennial study conducted by HCP on behalf of the Tampa Downtown Partnership highlight Downtown Tampa as a contributor to the area's population growth.
Over the years of study, Downtown has seen growth in both employee volume and residential population. Significant residential construction has been met with significant demand; in the time since the initial study, the number of units within downtown grew by 142 percent and units are at a premium for those looking to relocate Downtown.
Most of the residents that live in Downtown Tampa moved here from suburban areas of Hillsborough County, and those coming from out of state originate from the Northeast. The population reflects a mix of Boomers, Gen X and Millennials, all of whom have expectations for Downtown improvements.
Hill revealed the mounting expectations for retail and restaurants that serve diverse tastes and dietary preferences, in addition to enhanced parking affordability/accessibility and more modes to facilitate movement in and around Downtown.
Major initiatives are underway that speak to prior survey demands. The demand for grocery stores has trumped nearly everything else over the past few studies. The new Publix in Channelside and boutiques like Duckweed are expected to offset some of this demand. Another housing boom will take place this year with new residential properties appealing to the more than two in five workers expressing interest in a future move Downtown.
Hill stated, "There is growing interest in urban living and the increase of amenities of Downtown have improved over the past decade; however, residents and workers both share the sentiment to have more retail availability, grocery stores, parking availability and transit options." Despite the need to improve in those areas, both workers and residents highly recommend Downtown Tampa.
Today, residents and workers alike enjoy the Riverwalk, Curtis Hixon Park and many cultural organizations that provide a diverse lineup of events and programs. These are major factors current residents indicate weighing on their decision to make the move Downtown.
The Downtown Development Forum represented the ideal setting to bring together Downtown's business leaders, economic development specialists, transportation experts, developers, realtors, brokers and other stakeholders. The forum focuses on the exploration of innovative ideas in urban development and serves as a catalyst for discussion and problem solving for major urban issues in Downtown.
Presentations shared during the event can be viewed here. https://www.tampasdowntown.com/monday-morning-memo/march-27-2017/