HCP Associates Releases 3rd Worker Residential Results for the Westshore District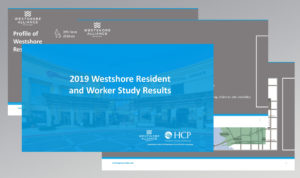 TAMPA, Fla., (May 21, 2022) – For the third time, HCP Associates concluded a community sentiment study for the Westshore Alliance to gather data from residents and workers in the district with ideas on how to improve the area. The Westshore Alliance, founded in 1983, is a member-based organization comprised of business and community leaders with a mission to promote, shape future growth, and foster the prosperity of the rapidly growing Westshore Business District.   
This version of the study incorporated board and leadership planning as changes occurred in early 2022. We looked to do a deeper dive into the future needs of the district by asking more forward-thinking questions that would roll up into a new strategic plan.  HCP Associates will capture qualitative from key stakeholders and quantitative feedback from those living and/or working within the district's boundaries on how they perceived the district at present and what they looked for in the future.   
"We now see a major shift occurring from the feedback from leadership stakeholders, residents and workers where alignment in further enhancements of connectivity within the district is critical and linking the district to its neighboring communities of West Tampa and Downtown Tampa," said Sean Coniglio, Managing Partner of HCP Associates. 
For more information, visit https://www.choosewestshore.com/publications-reports/