HCP Associates Brands Leadership Tampa Bay's 30th Anniversary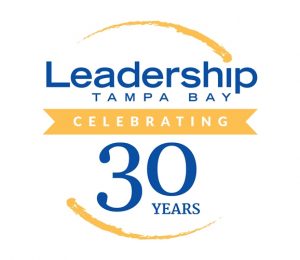 TAMPA, Fla. (November 5, 2017) Leadership Tampa Bay (LTB) Board of Directors engaged HCP Associates to brand their 30th anniversary logo.
LTB  is a non-profit organization governed by an independent board of directors living and working in the larger Tampa Bay region—Hillsborough, Pasco, Pinellas and Polk counties. Established in 1987, the organization's mission is to enlighten Tampa Bay leaders.
HCP has a close connection to the Leadership Tampa Bay organization. The company has had numerous members of its leadership team complete the program and serve in leadership roles on its board of directors.
This program year marks 30 years for the Leadership Tampa Bay organization. HCP collaborated with the Leadership Tampa Bay's Board of Directors to design a logo to commemorate this impressive milestone through the 2017/2018 program year.
The program's logo is widely used and recognized within the community and therefore, HCP did not recommend major modifications to the logo for fear of losing the associated brand equity. Instead, HCP designers maintained the base components of the logo and retained the current brand standards to call out the anniversary celebration without compromising the base of the existing logo.
The organization has successfully graduated more than 1,000 local professionals through its nine-month immersive program, exposing hand-selected senior management to C-level leaders to regional assets, and providing unparalleled access to those taking the charge on the issues that matter most to the growth and prosperity of our community. Upon completion of the program, the graduates join their alumni peers, participating in alumni events, gatherings, seminars, serving on committees and even on the board of directors, to help further the mission and recruit future members.
HCP's Senior Brand Strategist/Partner Eric Polins said, "We were delighted to work with Leadership Tampa Bay and their Board of Directors; something as special as a 30th anniversary only comes around once and we wanted to make sure we retained earned equity while calling attention to this well-deserved milestone."
To keep up with Leadership Tampa Bay happenings, visit www.facebook.com/LeadershipTB and for information on membership, visit www.leadershiptampabay.com.