21 & Change Presents HCP Associates with Founders Award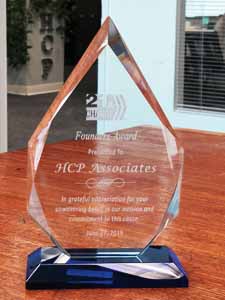 TAMPA, Fla. (July 17, 2019) – John Bodor, President of 21 & Change and the Board of Directors awarded HCP Associates with the Founders Award at their First Anniversary and Sponsor Appreciation Luncheon held at the Columbia Restaurant in Historic Ybor City. The Founders Award recognized HCP Associates for their unwavering belief and support in the organization's mission.
HCP Associates' Managing Partner Eric Polins said, "On behalf of all of us at HCP, we were deeply moved and appreciative of this prestigious award. We have always been believers in 'accepting the call to serve' when our community asks us. And we can certainly attest to after 33 years in business, seeing organizations that fight for change and especially human rights for all people, really makes our work feel like an accomplishment we can all share."
Recognizing the many individuals who have made an impact on the organization after only launching a year ago, the luncheon also focused on expanding the non-profit's mission, which promotes inclusion, education, and human and civil rights for the 'differently-abled'.  [that all human lives have value, and that everyone should have the opportunity to discover their full potential.]
The luncheon's guest of honor was Representative Jackie Toledo (FL-60) who was honored for her ongoing efforts to support this cause.  Sunny Alexander and Michelle Richards received the Ambassador for Change Award for their extraordinary efforts and commitment to the Champions for Change Challenge event hosted in early March 2019.  John Greene and Paige Byrnes also received the Ambassador for Change Award for hosting the highly successful Linksters Tap Room Annual Golf Tournament fundraiser, which raised over $14,700 to support 21 & Change's mission.
The 21 & Change Founders Award is meant to recognize an individual or organization that made the most significant impact on the nonprofit's mission through deliberate support or rendered distinguished service to the community while in partnership directly supporting the nonprofit's mission.
"After hearing our concept, over a year ago, the owners at HCP didn't blink and immediately offered their 'pro bono' support.  For a nonprofit, this is like winning the lottery!  There is no doubt in my mind that without the professional expertise and support we received from the team at HCP Associates, 21 & Change would not be where it is today as a nonprofit and advocacy organization for the differently-abled," Bodor said.
21 & Change takes an active role in promoting inclusion in the community, public school system, workplace and the pursuit of the full measure of civil rights for individuals with developmental disabilities.
To rationalize a brand position, HCP conducted secondary research and studied similar organizations on a regional and state level. HCP launched the non-profit's positioning statement as "Ending the Down syndrome 'syndrome.' HCP designed and launched a website, social media channels, public relations, print and digital collateral and various other marketing-related tactics. This brand model created programs championing advocacy, support, and niche services currently not offered in the Tampa Bay area. In addition, HCP promoted the concept of seeing individuals as "differently-abled" as opposed to "disabled." All efforts of branding were directed towards this goal.
Over the years, HCP Associates has worked with many non-profit organizations and continues to strive to act as an advocate for change and the betterment of the local community. HCP is honored to have received this award and looks forward to what the future holds for the 21 & Change.