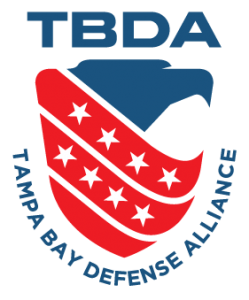 Tampa Bay Defense Alliance
Client: Tampa Bay Defense Alliance
Industry: Defense/Military/Security
Challenge:
Founded in 2012, The Tampa Bay Defense Alliance (TBDA) was created to champion and facilitate solutions to challenges facing our defense community in collaboration with military, community, and industry stakeholders. TBDA is one of eight statewide associations under Enterprise Florida's Florida Defense Alliance (FDA), created in 1998 in accordance with Florida Statute 288.980 as a nonprofit partnership between the Governor, Florida state officials, the Florida Congressional Delegation, state legislators, base commanders and staff, community leaders, and business executives. The FDA focuses on increasing military value, enhancing base capabilities, and promoting multi-service synergies for Florida's military bases, while supporting and enhancing the quality of life of Florida military families.
The Tampa Bay Region is home to MacDill Air Force Base, which hosts U.S. Central Command, U.S. Special Operations Command, and Coast Guard Air Station Clearwater. Defense activities account for roughly $7.5 billion in total direct spending in the Tampa Bay Region. These expenditures generated 163,000 jobs in 2016 and accounted for $17.1 billion of the region's Gross Regional Product (7.6% of the region's total GRP). Salaries paid to federal military and civilian employees accounted for 53,000 total jobs, while federal procurement dollars accounted for over 33,000 jobs. The bulk of the economic impact associated with defense activities in the region is a result of federal dollars flowing through the region to the military – roughly $15.7 billion of the $17.1 billion impact. The Coast Guard accounted for more than 6,800 total jobs and the National Guard for an additional 6,149 total jobs in the region.
With a new board of directors and President named in 2019, the TBDA needed strategic planning, branding, and positioning to rejuvenate its equity in the region. It needed to focus on educating the community, leaders, active duty, and retired veterans on its renewed objectives for the future of the country's second-largest military retiree population, the third-largest veteran population, and the fifth-largest level of defense contracts at over $14 billion.
Solution:
HCP Associates has a long and trusted relationship with both the TBDA and Enterprise Florida's FDA. As a veteran-owned research-based marketing consulting firm, HCP was instrumental in creating and executing the highly successful "My MacDill" Community pride campaign launched in 2015. The campaign's objective was to educate and inform citizens on the risks of sequestrations and a possible base realignment just prior to MacDill AFB's 75th anniversary.
HCP engaged in regional/statewide secondary research to rationalize the posturing and messaging for TBDA, paying attention to image, benefit, and competitively driven characteristics and how the new brand could communicate better to its unique audiences.
HCP created a brand platform with rationalized/suggested positions presented to the board of directors. Upon approval, the HCP team created a full corporate identity package with sales collateral, PR, website, social media, and an arsenal of digital marketing tactics and tools that launched in early 2020. Additionally, HCP will be launching a community campaign that will allow Tampa Bay businesses to host and feature TBDA's The Tampa Bay Trophy in their lobbies and/or offices in late 2020. Speaking as one team with one voice, TBDA will continue to collaborate and support community partners on issues of importance to the defense and military communities in the Tampa Bay Region.