HCP Associates Welcomes New Coordinator of Client Services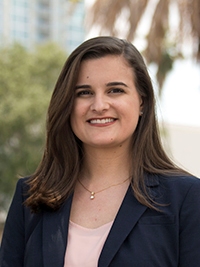 TAMPA, Fla. (June 04, 2018) – HCP Associates' Managing Partners Sean Coniglio and Eric Polins announced today an addition to their growing marketing and research team with the addition of Kristen Peebles as the new Coordinator of Client Services.
"As we continue to expand and grow into some niche vertical markets, we wanted an analytical individual with national and international expertise in franchised business models with an emphasis on the millennial consumer market; Kristen really fit that bill for us perfectly," Coniglio said.
Peebles most recently worked in Knoxville, Tennessee with The Tombras Group as an Assistant Account Executive for a Global Client handling international, national, regional and hyper-local levels of branding and advertising. She is a Jacksonville, Florida native and graduated from The University of Florida with a Bachelor of Science in Advertising and a Graduate Certificate focusing on Global Strategic Communications.
As HCP's Coordinator of Client Services, Peebles will assist in day-to-day marketing initiatives for clients across multiple industries. She will work closely with HCP's Manager of Client Services to serve as a point of contact for clients, and as a liaison to the three divisions within HCP: Research, Strategy and Marketing.
For more information on HCP Associates, please call 813-318-0565 or visit www.hcpassociates.com.