HCP Associates and Ybor City Development Corporation win two prestigious awards for "More in Ybor" campaign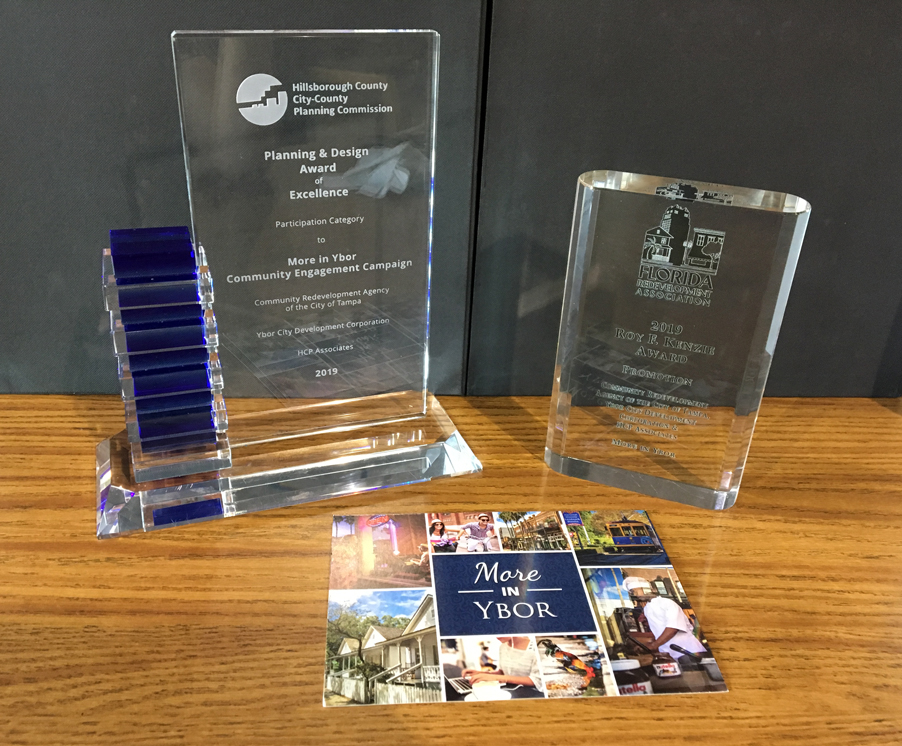 TAMPA, Fla. (Oct. 31, 2019) – HCP Associates in partnership with Ybor City Development Corporation (YCDC) and the City of Tampa Community Redevelopment Agency (CRA) were recently recognized by two organizations for the "More in Ybor" campaign. The goal of the campaign was to show that there is "More in Ybor" beyond being "Tampa's Entertainment District."
The campaign was recognized with a statewide award by the Florida Redevelopment Association (FRA) in the promotion category of the 2019 FRA Award Program, which recognizes projects and people involved in redevelopment throughout the state.
"More in Ybor" was also honored at the Hillsborough County Planning Commission's 37th Annual Planning & Design Awards, with an award of excellence in the community engagement category. These annual awards recognize excellence in planning and design projects that contribute to a better quality of life in our community.
The "More in Ybor" campaign was launched in January of 2017 and focuses on attracting developers, entrepreneurs, corporate executives and potential residents to Ybor City's historic district. The campaign aimed to promote the business and living opportunities in Ybor City, and how the walkable historic neighborhood is ideal for relocating, expanding or launching a business, or residing.
"We conducted a community sentiment research study to determine what residents and workers like and dislike within the historic district, and how they viewed Ybor City," said Sean Coniglio, Managing Partner of HCP Associates. "Our campaign was developed based on the findings within the community and we realized that Ybor offered so much more than what people perceived Ybor to be."
The campaign started with an assessment of the community to understand development priorities from resident and worker perspectives, which shaped the strategy to call attention to the broader offerings in the district beyond entertainment. The HCP team then developed various concepts and launched the communitywide campaign, which included a website, economic development brochure, social media platforms, annual photo contests, a leadership video series, and a quarterly electronic and print newsletter, which all touted the attractiveness of Ybor City's business and residential community.
"The campaign has helped expand local perceptions that Ybor City is more than just an entertainment district. It's a vibrant, urban, historic neighborhood attracting new residents and businesses," said Brenda Thrower of YCDC. "We've received great responses and results since the 'More in Ybor' campaign started."
In the time that the "More in Ybor" campaign has been running, more than 30 new businesses, including corporate headquarters, startups, tech firms, consumer retail, restaurants, residential, commercial, and a new boutique hotel, have opened in the district.