DENTCO Talks Humble Beginnings as it Turns 40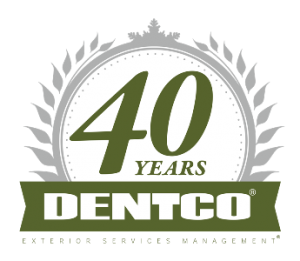 DeWitt, MI – (Feb. 22, 2017) – From working a sod field as a high school student back in the 60s, DENTCO founder Greg Dent had a dream of owning his own company; little did he know that it would grow into a major national player in the retail store and restaurant maintenance industry.
"I had met a Colonel after serving in the Michigan National Guard and he was a pretty savvy businessman.  We worked out a deal together where I would use his equipment on large projects like planting trees for local golf courses and even the city of Lansing." said Dent.
After realizing he had a green thumb, excellent mechanical skills and was a stickler for quality assurance, young Dent opened shop as Trees, Inc. and within a few years had grown his small business into managing around 1,100 commercial sites. He quickly realized that in order to grow at the rate he needed, an acquisition would need to be in the near future. After much strategic planning, Dent acquired Benjamin Parking and got into a second line of business to accompany landscaping.
"Little did I realize, I was essentially creating the model for our Exterior Services Management® (ESM) business model for our Contractor Partners which DENTCO works with all over the country. The concept really hit me when I was at a meeting in Minnesota and I was talking with another contractor who was complaining about owning and maintaining too much equipment. I realized at this moment that the key to national growth was in partnerships with contractor partners."
From 1995 to 1999, Dent continued to grow the company and began traveling to different states to pitch large retail chains for landscaping, snow removal and parking lot services. It was at this point DENTCO became regional.
In 2000, shortly after Dent relocated to Tierra Verde, Florida, he engaged the services of HCP Associates, a Tampa-based marketing firm with expertise in national B2B marketing.
HCP Senior Brand Strategist/Partner Eric Polins recalled, "Initially we were referred to DENTCO by an ad agency to build a website and an interactive DVD; these were things traditional agencies did not have the inside talent to handle at the time. We then quickly realized the power of DENTCO's value-added proposition and branded them as the first exterior services company to claim the ESM model in a highly fragmented retail industry. Until this model was unveiled, many national businesses struggled with fragmentation and poor results of decentralization. We were in the right place at the right time with the right guy. Together, we made one heck of a dent in the national retail maintenance industry."
During the Great Recession, when unemployment remained high and consumer confidence was low, DENTCO prevailed and continued to grow.
"I simply decided that we were going to dramatically increase our snow removal services at the time and we really benefitted in large growth from that decision," said Dent. "In a way, those hard times turned out to be a pivotal point for our future growth."
To this day, many competitors have attempted to duplicate the ESM model, but DENTCO remains the only company who is 100 percent dedicated to the ESM philosophy and has the experience of performing every service to perfection.
Longtime management leader Teresa Phelps, DENTCO's National Sales Director said, "No other company in the ESM industry has been as unwavering with quality assurance and client retention. I've definitely seen us evolve and tons of competitors have popped up over the years. We're the best at what we do; we have the infrastructure and knowledge to continue to grow. And our people are our best commodity!"
Applying 40 years of exterior experience, DENTCO helps clients consolidate, centralize, reduce costs and realize the importance of quality-assured services. DENTCO employees' performance of hands-on ESM philosophies, supported by our robust EQM application, allow facility managers to oversee thousands of sites nationally via the Internet. The DENTCO motto for years was "We go onsite. You go online. And that makes all the difference."
President Scott Milnes said, "We've made substantial investments in technology and people and what we're doing now is light years ahead from just a few years ago. We adapt and change for our customers, daily."
"We try to stay on the cutting edge of technology," IT Specialist Mike Harri said. "A lot of our competitors don't have the tools we've built over the years to help manage our customer's business decisions."
DENTCO has seen considerable growth and has maintained a 99 percent customer retention rate. From this growth, they have continued to reinvest in the three cornerstones of their business model – People, Process and Technology. According to Brian Wooten, DENTCO's longtime CFO, the company has grown 20 percent each year in the past two years alone.
"We haven't lost any customers and have a low turnover rate with employees and I'm proud of that," said Milnes. "My favorite part of my job is the opportunity to problem solve and find a solution that works for our customers."
After Greg Dent retired in 2000, his younger brother Kevin took the reigns as CEO. In 2013, there was another shift in management and for the first time, a Dent would not be at the helm. DENTCO's Chief Operating Officer Scott Milnes was named President and Greg Dent's son, longtime employee Justin Dent, was named the new Chief Operating Officer.
"I think Kevin really allowed Greg to be able to let go and enjoy retirement; only I'm doing the same thing for Kevin right now," Milnes commented.
"We really worked a lot of overtime and the seasons would come and go. It was both a challenging time in my life, but a very rewarding one. I got to work and live with so many wonderful people that I remain friends with today. I hold onto a few things I thoroughly enjoy around the old stomping ground; I am Santa around the holidays for the employees and their children and I love to be the grill master for company picnics to see all the changes. I'm so proud of everyone," Kevin Dent said.
Justin Dent reminisced about the family business during an interview for this story and talked about how he watched his family build a great company from the ground up. "Everyone here is extremely passionate about DENTCO and the ESM model. I'm proud of the company and proud of my dad, uncle, employees and our contractor partners."
One of his first duties was to coordinate a 3,400 sq. ft. expansion for the company's corporate headquarters in DeWitt. The new space created 20 new work stations along with three new meeting rooms. Most importantly, it provided DENTCO teams with more conducive department cells and a better work environment.
DENTCO is not only a huge success in business; they were also named one of Michigan's coolest places to work for by Crain's Detroit Business newspaper in 2014.
"It always goes back to the people we work with," said Justin Dent. "Being able to provide them a good place to work and keeping up with the team comradery even as we've grown into a bigger company."
According to Milnes, DENTCO plans to grow more in the next 10 years, growing 10 percent each year.
"I never thought this company would have grown to what it is today," said Teresa Phelps. "I feel confident we will continue to grow over the next 10 years. We have a great team of people who know what they are doing."
Greg Dent said, "It's been an amazing experience and the team in place now continues to carry on the mission of quality assurance and hiring more great people. I remain surprised by the huge strides of positive change I see when I visit the corporate headquarters. But, I continue to enjoy retirement and get to spend time with one of my best friends, my brother Kevin."
DENTCO is the 1st Exterior Services Management Company in the United States.  With over 40 years of experience with retail store and facility exteriors, they offer online portfolio management for snow and ice control, parking lot maintenance, landscaping, irrigation, and various other ESM services.  Visit them at www.dentco.com or call (800) 993-3689.